Everything You Need to Know About Fly Fishing in Miami
Whether you're new to Miami or have visited several times, you probably already know that the fly fishing opportunities in the area are world-class. If you'd like to catch trophy fish while being surrounded by the spectacular beauty of the waters and city life, then Miami is the place to be! It's called the Magic City for a reason.
But wait, before you pack your bags and go, what's there to learn about fly fishing in Miami in the first place? It doesn't matter if you're a beginner or a seasoned angler, there's always something new to learn. We share what you can expect when fly fishing in Miami, so continue reading!
What to Catch When Fly Fishing in Miami
When you're fly fishing in Miami, expect a ton of different species for a productive day. There will always be something to catch all year long. You'll want to communicate and book a local guide who can update you on the fish with an open season at any given time so you know what species to target on the day of your trip.
The big three species to target when fly fishing in Miami is:
Tarpon: Also called the Silver King, these catch-and-release species are fun to target because of their size and power. They are usually over 50 pounds, sometimes even reaching 200 pounds!
Bonefish: Also called the ghost of the flats, bonefish will give you such a thrill and an aggressive fight. Think of them as ninjas of the water as well, being fast and stealthy. It's perfect for those looking for a challenge!
Permit: Permit are powerful and very challenging to find as they easily scare. But all that work will be worth it as you reel in this unique species.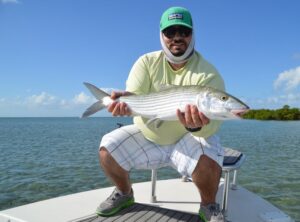 Where to Go Fly Fishing in Miami
There are a ton of places where you can enjoy fly fishing in Miami. If you plan to go saltwater fly fishing, head into the flats, Biscayne Bay, and Everglades, or explore the reefs and multiple wrecks.
As you can imagine, the opportunities are limitless. It can also be a bit confusing, which is why it may be best to ask or hire a fishing guide who can take you to the active spots to avoid wasting time.
When going freshwater fishing, you'll find a lot of bass in the extensive canals. Note that the deeper the waters, the more productive the fish are. Combine drop-offs with hard structures and expect a great day of fly fishing in Miami!
Best Times to Go Fly Fishing in Miami
The amazing part of Miami is how the weather is always amazing no matter the time of year, even come winter season. Miami is known to have the warmest winter weather all around the USA.
The peak season is from December to May when it's a tad warmer and drier than summer. That said, prices would go up at this time. Also, be wary if you plan to go between June to November, as this is hurricane season.
You can still catch fish regardless of the season, but tarpon is best caught from May to June. Permit is great from May to November and snook fishing is excellent come the summer season. As for bass, you can catch this throughout the year but expect non-stop action come winter.
If you join a fishing charter, they will let you know when the best times are for the fish you want to catch, depending on the weather, water conditions, and current regulations.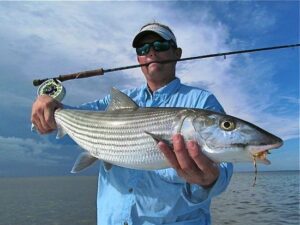 What to Bring
When you're joining a fishing charter, almost everything will be included, such as the equipment. The fishing rods, reels, bait, and saltwater license will be included in the trip! However, if you will be fishing in freshwater, you will need to possess an individual license.
Other than that, here are the things you should bring to the fly fishing trip:
If you plan to fish from the shore in the canals or go on a boat, always wear the right shoes for protection! On boats, avoid sandals and opt for anti-slip sneakers. For those fishing from the shore, opt for strong boots as there are a lot of snakes in that area.
Prioritize sun protection. Wear sunscreen, a brimmed hat, and polarized sunglasses. These will help you see fish better, too.
If you are bringing your own equipment, what you'll bring will depend on the target species. For bass, choose a 6-8 wt rod. For medium-sized bonefish and tarpon, go for 8-9 wt rods. When targeting medium tarpon or permit, choose the 9-10 w rod. Large tarpon will require a 12 wt rod with spinning gear in the 20 lb class for its size and power.
For those who can only bring or purchase one fishing rod, opt for the 9 wt, which is adequate for countering winds and helping you reel in good-sized fish.
Don't forget your personal belongings like medication, wallet, gadgets, and a waterproof bag to hold all your valuables.
Wear clothes according to the weather, but always pack a layer and raingear, because you never know what can happen!
For charters without food and drinks included, you can bring your own light snacks and a lot of water to cover you for the day.
Wrapping It Up
When going fly fishing in Miami, you can expect to spend your trip in the waters on a small yet mighty boat! Such boats can include bay boats, flat boats, or skiffs so you can head to hard-to-reach areas safely.
Rather than renting a boat to navigate the waters yourself, why not book fishing charters with experienced captains who are well-knowledgeable about fly fishing in Miami? Contact us now to learn more about our services and have the time of your life catching tons of fish without the hassle!