Miami Grouper fishing charters
There's no better fishing spot than Miami if you're dying to catch some grouper. Florida boasts enormous goliath groupers, delicious gag groupers, and pretty red and black groupers. We would love to take you on the grouper fishing trip of a lifetime!
Book Now
GROUPER FISHING IN MIAMI, FLORIDA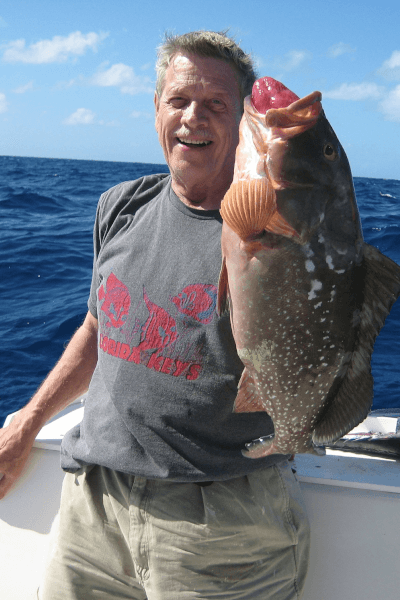 Miami has some of the best grouper fishing Florida has to offer.
You'll often find fishing enthusiasts swarming to Miami for its red, black, goliath, and gag groupers. Florida is one of the best fishing spots for groupers since groupers are abundant there and aren't in danger of being too overfished yet.
Everything you Need to Know About Groupers in Miami
Goliath groupers can't be bagged, but gag, red, and black groupers are baggable. Groupers have a hard time replenishing their numbers because their mating habits make them a great target for fishermen.
During mating reason, groupers form schools, which attracts anglers and causes overfishing. However, Florida's grouper regulation had been going well, so fishing for groupers in Miami is alright.
Black and red groupers are always in season, but gag groupers are only in season from June to December. In terms of taste, gag grouper is the best. Meanwhile, in terms of game, goliath grouper offers an excellent challenge.
Generally, black, red, and gag groupers weigh 5 to 20 pounds on average, while goliath groupers weigh 75 to 150 pounds. You can find them inshore, nearshore, offshore, or by the reefs and flats.
Common Techniques Used to Catch Grouper
Groupers in Miami aren't picky when it comes to bait, so most baits work. However, methods such are drift fishing, jigging, heavy tackle, and bottom fishing work best in catching them.
Why Choose Miami for Grouper Fishing
As mentioned before, Florida is one of the most successful states in grouper regulation. Hence, more groupers are available in Miami, so it's the perfect fishing spot for you if you're looking for groupers.
Florida Fishing Regulations for Catching Grouper
You can bag red, black, and gag grouper when they're at least 24 inches long. There's a limit of 2 groupers per person for gag and red groupers, while 4 per person is the limit for black groupers.
Why Choose Miami, Florida as Your Next Grouper Fishing Charter
Miami Florida Grouper Fishing Charters hooks you up with the best available experienced local guides within Miami to ensure your fishing trip goes smoothly.
Booking with us not only arms you with the best fishing gear and guides, but also greatly increases your chances of having a memorable experience that'll last you a lifetime.
Head on to our blog for useful fishing tips on fishing in Miami, contact us for queries, or start your fishing adventure.