Miami Snook fishing charters
If you're after a fish that puts up an excellent fight, try fishing for snook.  They're perfect for anglers seeking an adrenaline rush on their fishing trip. However, catching them while following regulations may be tricky, so it's wise to contact a charter like Miami Snook Fishing Charters for guidance.
Book Now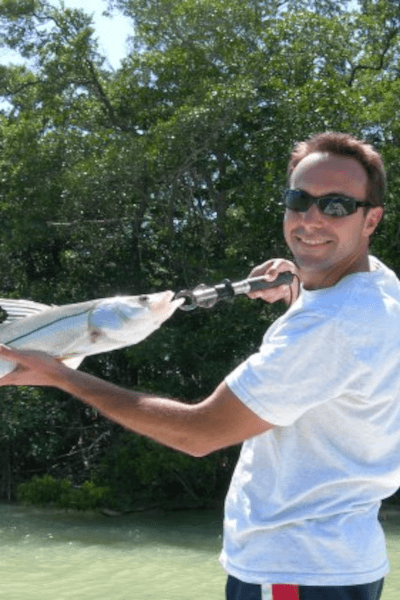 Miami has some of the best snook fishing Florida has to offer.
Snook is among the best fish residing in Miami. Besides being a great game fish, it's also a wonderful seafood. Hence, anglers often seek snook for the pleasure of catching and eating it.
Everything you Need to Know About Snook in Miami
Snook weighs 3 to 15 pounds on average, but they can be as heavy as 50 pounds and as long as 48 inches in Florida. You'll often see five types of snook: the small-scale fat snook, large-scale fat snook, common snook, tarpon snook, and swordspine snook.
Common snook is a usual catch, but swordspine snook is uncommon. You'll often see snook inshore, within flats, or by backcountries.
From April to September, they'll seek shelter in inlets and estuaries. Then, they'll travel to rivers and piers. Hence, snook fishing is best done during spring on temperate waters.
Common Techniques Used to Catch Snook
Crustaceans and small fish are great snook baits, while light tackling and fly wishing are excellent fishing methods.
When fishing for snook in Miami, remember that snook love shelter. This means you'll often find them near one or that they'll run towards one once they're hooked.
Why Choose Miami for Snook Fishing
Snook hate cold water. Florida's waters are warm most of the time, so that makes it the perfect habitat for snook.
Florida Fishing Regulations for Catching Snook
Snook season starts in September but closes from May to August. At present, a catch-and-release order is in place for snook in some of Florida's areas due to red tide.
You're not allowed to spear or net when snook fishing, but you can use line and hook.
Why Choose Miami, Florida as Your Next Snook Fishing Charter
Miami Florida Snook Fishing Charters hooks you up with the best available experienced local guides within Miami to ensure your fishing trip goes smoothly.
Booking with us not only arms you with the best fishing gear and guides, but also greatly increases your chances of having a memorable experience that'll last you a lifetime.
Head on to our blog for useful fishing tips on fishing in Miami, contact us for queries, or start your fishing adventure.