Miami Sailfish fishing charters
Sailfish are swift, acrobatic, and strong. More importantly, they're Florida's saltwater state fish and Miami itself is known as the US' Sailfish Capital. So, if you've never fished for sailfish before, what are you waiting for? Contact Miami Sailfish Fishing Charters now and get started!
Book Now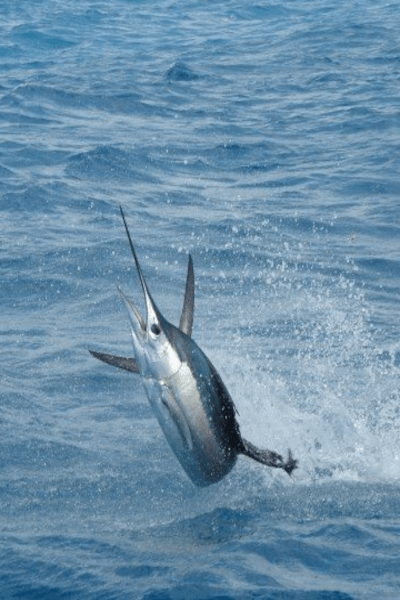 Miami has some of the best sailfish fishing Florida has to offer.
You can't call yourself an official Floridian angler if you've never fished for sailfish, Florida's saltwater state fish.
Specifically, Miami holds the title "Sailfish Capital of the U.S.," so there's no excuse not to look for this fish at least once in your fishing life.
Everything You Need to Know About Sailfish in Miami
Sailfish are swift, powerful, and acrobatic. Anglers usually catch them for sport and then release them.
Miami's sailfish weigh 40 to 60 on average, but can grow as heavy as 220 pounds. They're usually 4 to 5 feet in length, and can reach 11 feet if given the chance. However, the largest sailfish caught in Florida so far is only 126 pounds.
Sailfish in Miami have no closed season, but you'll find them in abundance offshore on January to March, May, and September to November. Meanwhile, April is their low season.
Common Techniques Used to Catch Sailfish
Live baitfish such as pinfish, scads, mullet, ballyhoo, threadfin herring, pilchards, sardines, goggle eyes, and blue runners attract sailfish the most.
Meanwhile, methods such as light tackling, handlining, kite fishing, fly fishing, drift fishing, and deep sea fishing work best in capturing sailfish.
Why Choose Miami for Sailfish Fishing
Miami is the best place for sailfish fishing because it's the sailfish capital of the United States itself. You can find plenty of sailfish within 130 to 300 feet off of Miami's coast.
Florida Fishing Regulations for Catching Sailfish
You're limited to bagging only 1 sailfish per person with a minimum length of 63 inches in Florida.
Why Choose Miami, Florida as Your Next Sailfish Fishing Charter
Miami Florida Sailfish Fishing Charters hooks you up with the best available experienced local guides within Miami to ensure your fishing trip goes smoothly.
Booking with us not only arms you with the best fishing gear and guides, but also greatly increases your chances of having a memorable experience that'll last you a lifetime.
Head on to our blog for useful fishing tips on fishing in Miami, contact us for queries, or start your fishing adventure.