Miami Amberjack fishing charters
Amberjack is an excellent game fish that's abundant in Miami. Miami Florida Fishing charters will hook you up with the best guides in the area to not only put you on the fish but also ensure that you hav the trip of a lifetime.
Book Now
MIAMI, FLORIDA AMBERJACK FISHING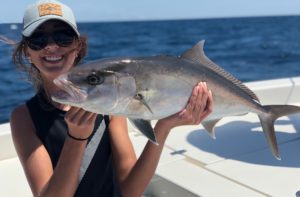 Miami has some of the best amberjack fishing Florida has to offer.
Amberjack is edible, but most anglers catch it for as a game rather than food. Miami, Florida Fishing Charters often catch amberjack that weigh 60 to 80 pounds on average. Amberjack that reach 100 pounds are also present, and they're considered trophy fish.
Everything you Need to Know About Amberjack in Miami
The smallest amberjack catch in Miami weighs around 15 to 40 pounds. However, on the right season, you can bag bigger amberjack that can be as long as 6 feet. 
May is a great time for amberjack fishing, and so are the months of August, September, and October. During that time, you can find them in reefs and wrecks.
Common Techniques Used to Catch Amberjack
Amberjack in Miami aren't picky when it comes to bait. You can use any kind of live bait and they'll approach you. 
However, techniques such as bottom fishing, light tackling, deep sea fishing, jigging, spearfishing, drift fishing, and popping work best in catching amberjack.
Why Choose Miami for Amberjack Fishing
Miami has fantastic wrecks and reefs that amberjack love. So, if you're after edible game fish that looks as awesome as the amberjack, head on to Miami.
Florida Fishing Regulations for Catching Amberjack
You can bag amberjack within Gulf state waters if it's at least 34 inches long, and 28 inches if it's in Atlantic state waters. If you're fishing in Biscayne National Park, be sure to follow the regulations set there.
Legal amberjack equipment in Florida are spears, seine, cast net, gigs, and hook and line.
Why Choose Miami, Florida as Your Next Amberjack Fishing Charter
Miami Florida Amberjack Fishing Charters hooks you up with the best available experienced local guides within Miami to ensure your fishing trip goes smoothly.
Booking with us not only arms you with the best fishing gear and guides, but also greatly increases your chances of having a memorable experience that'll last you a lifetime.
Head on to our blog for useful fishing tips on fishing in Miami, contact us for queries, or start your fishing adventure now.