Miami Redfish fishing charters
Redfish is a moderately challenging fish best for anglers of all levels. However, you need to be someone who can be satisfied in catching a fish and then letting it go. If you're that kind of person, reach out to Miami Redfish Fishing Charters and see how we can help you out.
Book Now
MIAMI FLORIDA REDFISH FISHING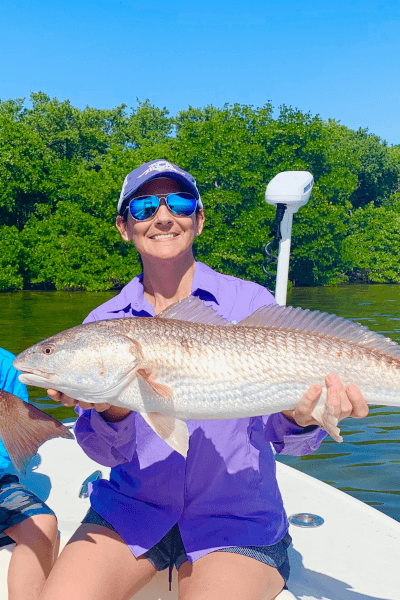 Miami has some of the best redfish fishing Florida has to offer.
Redfish fishing suits anglers of all levels. They're powerful and big, but they're not overwhelming. They also don't run as far as other fish when hooked.
Moreover, they're quite tasty and photogenic. This attracts both experienced and inexperienced fishing enthusiasts.
Everything you Need to Know About Redfish in Miami
Redfish is sometimes called bull red, rat red, channel bass, or drums. You'll see them at 10 to 12 pounds on average, but 30-pound redfish are also present within Miami. In fact, Florida's heaviest redfish catch weighed 52 pounds. 
Rocky or grassy shorelines, shell bars, and shallow flats are among a redfish's favorite spots.
Common Techniques Used to Catch Redfish
You can catch redfish by using attractive baits like shrimps, sand dollars, and crabs during summer and fall season; and pinfish and mullet during winter and spring.
Alternatively, you can use cut mullet and menhaden when you're fishing for redfish in clear water; rattling plugs and jigs when in turbid waters; and spinnerbaits and croakers when in flats.
Drifting and stillfishing works best when capturing redfish.
Why Choose Miami for Redfish Fishing
Miami has great inshore inlets that redfish see as paradise. Moreover, Florida itself had been successful in regulating and managing the redfish population, so it's one of the best redfish fishing spots in the world.
Florida Fishing Regulations for Catching Redfish
At present, a catch-and-release order is in place for redfish in some areas of Florida. Redfish needs to be at least 18 inches long but not longer than 27 inches in order to be bagged.
The Northwest and South can only bag 1 fish a day with a limit of 8 redfish per vessel, while the Northeast can bag 2 fish a day with the same limit of fish per vessel.
Cast net and hook and line are permissible equipment, but multiple hooks and spears are not.
Why Choose Miami, Florida for Your Next Redfish Fishing Charter
Miami Florida Redfish Fishing Charters hooks you up with the best available experienced local guides within Miami to ensure your fishing trip goes smoothly.
Booking with us not only arms you with the best fishing gear and guides, but also greatly increases your chances of having a memorable experience that'll last you a lifetime.
Head on to our blog for useful fishing tips on fishing in Miami, contact us for queries, or start your fishing adventure.