Miami Wahoo fishing charters
Wahoo are known to be fierce predators, so anglers often seek them out for game. If you're one of those anglers, reach out to Miami Wahoo Fishing Charters to see how we can improve your fishing experience and ensure a smooth trip.
Book Now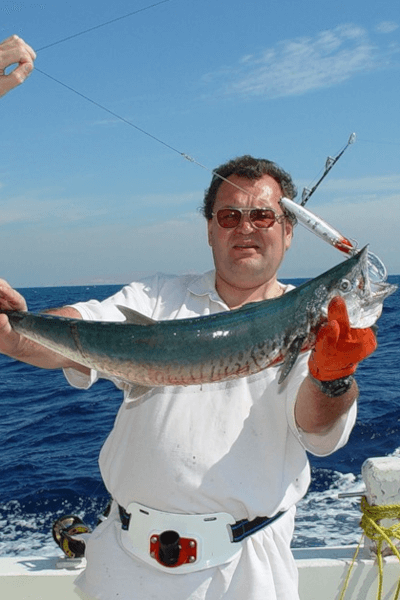 Miami has some of the best wahoo fishing Florida has to offer.
Wahoo is often caught for game due to their predatory nature. They're among the fastest fish in the ocean, and they possess sharp teeth to complement their speed.
Everything you Need to Know About Wahoo in Miami
Miami's wahoo weighs 15 to 40 pounds on average, but Florida's heaviest wahoo weighed 139 pounds. It's not a surprise since these fish can grow as long as 98 inches.
Generally, you can find wahoo in offshore waters. However, they can also be spotted nearshore and by the reefs at times. They love eating squids and other smaller fish, and they rarely form schools.
Common Techniques Used to Catch Wahoo
Wahoo aren't usually picky eaters, so chunks of any fish will work as bait. However, if you need ideas, you can opt for pilchards and goggle eyes. 
In terms of methods, trolling and jigging work best. Alternatively, you may also incorporate spearfishing, drift fishing, light tackling, and deep sea fishing when fishing for wahoo.
Why Choose Miami for Wahoo Fishing
Miami has plenty of reefs that wahoo love to occupy. Moreover, Miami's waters are deep enough to their liking that anglers are guaranteed to run across a wahoo or two when fishing.
Florida Fishing Regulations for Catching Wahoo
Specific conditions need to be followed when fishing for wahoo, including the part where they have to remain in whole condition when you're returning to shore. 
There's no minimum size limit when bagging wahoo, but you're limited to 2 per person. You're also prohibited from spearing.
Why Choose Miami, Florida as Your Next Wahoo Fishing Charter
Miami Florida Wahoo Fishing Charters hooks you up with the best available experienced local guides within Miami to ensure your fishing trip goes smoothly.
Booking with us not only arms you with the best fishing gear and guides, but also greatly increases your chances of having a memorable experience that'll last you a lifetime.
Head on to our blog for useful fishing tips on fishing in Miami, contact us for queries, or start your fishing adventure.