Miami barracuda fishing charters
Florida's warm waters are loved by barracudas. Hence, Miami Barracuda Fishing Charters was born. 
Book Now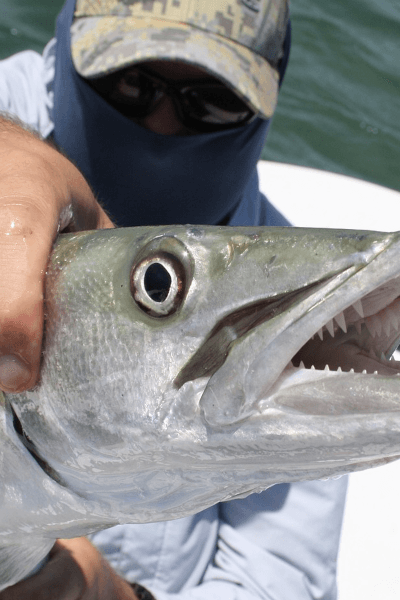 Miami has some of the best barracuda fishing Florida has to offer.
Anglers enjoy barracuda fishing for the challenge these beasts offer. They throw powerful strikes when hooked, and you can find them in shallow waters.
Everything you Need to Know About Barracuda in Miami
A barracuda is 4 to 6 feet on average, and they're easily identifiable once you spot their enormous jaws packed with rows of sharp teeth. 
You'll often see them within the 4 to 6 feet height range. They're aggressive, swift, and forceful, so anglers see them as a good fish to test their skills on.
Common Techniques Used to Catch Barracudas
Anchovies, mullet, mackerel, and sardines are the barracuda's favorites. With these as bait, you can catch barracuda in Miami by casting, trolling, jigging, light tackling, or fly fishing.
However, be mindful when you're using big hooks to catch barracuda because they have excellent eyes. 
Why Choose Miami for Barracuda Fishing
Barracudas love warm and tropical waters. This, alongside the abundance of tasty prey, makes Miami a beloved spot to barracudas. 
So, when you're in Miami, Florida, you won't run out of barracudas to catch. Likewise, if you chose to have a fishing charter accompany you, you're guaranteed a memorable catch.
Florida Fishing Regulations for Catching Barracuda
You can only bag two 15 to 36-inch barracudas per day in Florida. Each vessel has a cap of 6 fish.
Why Choose Miami, Florida as Your Next Barracuda Fishing Charter
Miami Florida Barracuda Fishing Charters hooks you up with the best available experienced local guides within Miami to ensure your fishing trip goes smoothly.
Booking with us not only arms you with the best fishing gear and guides, but also greatly increases your chances of having a memorable experience that'll last you a lifetime.
Head on to our blog for useful fishing tips on fishing in Miami, contact us for queries, or start your fishing adventure.