Deep Sea Fishing Near Miami Beach
Miami is a beautiful location that everyone flocks to, locals and tourists alike. Dubbed the Magic City, Miami is filled with so many things to see and do, such as partaking in fishing adventures!
But you're probably wondering – How can you begin your deep sea fishing adventures when in the Magic City?
Deep Sea Fishing Near Miami Beach: Fish to Catch
Check out some of the top fish species you can catch when deep sea fishing near Miami Beach: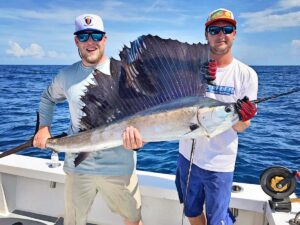 Sailfish
Did you know that sailfish is Florida's official saltwater fish? Moreover, it's one of the top targeted species because of the thrill you get when attempting to catch it! They are the fastest fish in the ocean, as well as strong fighters.
Sailfish are huge species that can weigh up to 100 pounds, so you'll be facing a mighty challenge as they jump and shake their heads as you try reeling one in.
Mahi Mahi and King Mackerel
Mahi Mahi is a staple species when it comes to deep-sea fishing near Miami Beach. They are feisty fighters and very gluttonous. Adding to that, they are delicious, making them a huge hit among locals and tourists.
You can also catch king mackerel, which are known for their razor-sharp teeth and super speed. They can even be more challenging to catch compared to the Mahi Mahi! These fish weigh up to 50 pounds and are found up to 150 feet deep in the waters.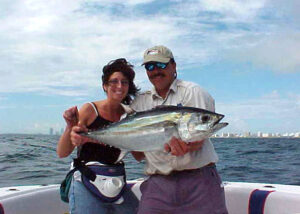 Blackfin Tuna
While you can find several tuna species in limited numbers, blackfin tuna is the most common. They aren't as big as their cousin species and weigh only up to 40 pounds, but they have such power!
Swordfish
During the fall season, many fishing charters would head out during sunset with excited anglers ready to go to the deep sea thanks to night fishing for swordfish! These fish are known as gladiators of the deep, best caught from August to November.
They are usually 1,000-2,000 feet deep and weigh 50-100 pounds, with some weighing hundreds of pounds! As you can expect, reeling them in and getting them into your boat will take skill and strength, which is why it's best to have help from a good fishing charter!
Bottom Fish Species
Besides what was mentioned above, there are other bottom fish species you can catch in Miami, such as snappers, jacks, groupers, and even tilefish. Groupers are a commonly-caught species, as well as snappers, with different Snapper species coming in during summer.
Techniques When Deep Sea Fishing Near Miami Beach
Catching many of these species will take quite the work, so you need to choose your fishing technique adequately. That said, here are some of the popular deep sea fishing techniques you'll be doing when on the water:
Trolling
This is the most popular and productive fishing technique to use when catching a mixed bag, yielding great amounts of fish all year long.
You can get even more fish during the coldest time of the year since the Gulf Stream is close to showing come wintertime. You can even troll 1-2 miles from the beach, though trolling over wrecks and reefs is more productive, especially when you have up to eight rods in the water at the same time with varying baits.
Kite Fishing
Are you planning to catch sailfish? Then kite fishing is your best bet! While you can hook a ton of other species with this technique, sailfish is the top catch.
During windy days, charter guides will use outriggers to control kites and lines with release clips and fishing lines running through them. Once they feel a tug on the line from a hooked fish, the line releases and you'll need to quickly grab your rod to reel that fish in! If you're targeting pelagic predators like sailfish, Mahi Mahi, wahoo, or mackerel, use live bait.
Bottom Fishing
This is more of an umbrella term because under bottom fishing comes a lot of different techniques, and what you choose depends on the species you're targeting. If you're targeting bigger fish in deeper waters, deep dropping is best. For those aiming for snapper, try anchoring!
The Best Spots for Deep Sea Fishing Near Miami Beach
It's also important to know where you should fish for more chances of success! Here are the top fishing spots in Miami:
Key Biscayne – This is one of the most popular fishing destinations in the city for inshore and offshore anglers. You can find Mahi Mahi, sailfish, sharks, snappers, and more!
Government Cut – This is a manmade channel suitable for those targeting sailfish.
The Edge – This s a drop-off where you can find a ton of baitfish, making it a suitable spot to catch predators like blackfin tuna or king mackerel.
Liberty Ship Reef – This is located two miles offshore, a productive reef known for bottom fish species like jacks, snappers, groupers, and a ton more.
Bache Shoal Reef – This is a well-known spot for avid divers and anglers alike. Expect a lot of sailfish, snappers, and groupers.
Join Miami Deep Sea Fishing Charters
You're probably thinking, "Aren't charters pricey? Why can't I just go on my own?"
You actually save money because you won't have to spend on boat rental, fishing gear, and other important equipment. You've got everything you need in a fishing charter, you just need to bring yourself and your personal belongings as needed.
If you're searching for a suitable fishing charter to join, then consider our services here at Miami Florida Fishing Charters. Gone are the days of hassling yourself to research and find charters and guides from scratch. We can connect you with many of the best local charters and guides for your deep sea fishing adventure without hassle.
Wrapping It Up
If you're looking for deep sea fishing charters in Miami, don't hesitate to contact us now!