How to Prepare for Your Miami Fishing Charter
Did you know that Miami is such a hotspot for fishing? Opportunities abound for beginner and seasoned anglers alike, which is why you can find various Miami fishing charter trips to join for the ultimate adventure. If you have already booked your Miami fishing charter, then you're in for a treat!
But we understand that first-timers may wonder about what fishing charters entail. Don't worry, we've got you covered with what to expect and how to prepare for your Miami fishing charter, so read on!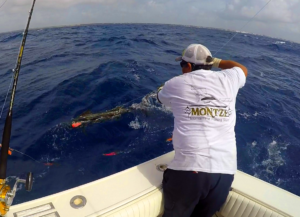 How to Prepare for Your Miami Fishing Charter
Here at Miami Florida Fishing Charters, we want to ensure that your day on the water is as enjoyable as possible. These are tips coming from professional fishing charter captains, so you know what to expect from the trip and how to prepare accordingly.
Come Prepared
Before anything else, you need to come prepared, so you'll need to pack accordingly. You wouldn't want to end up having a subpar experience because you forgot something crucial at home!
Also, remember that you will be under the heat of the Miami sun, so wear something according to the weather! We recommend packing a lot of sunscreen and sun protection gear like hats and polarized sunglasses. But that isn't to say that you should only expect hot weather because sometimes it can rain, or you can get wet from all the fishing action. Besides dressing for the hot weather, be sure to pack a raincoat to keep you dry.
Moreover, if you are likely to get motion sickness when on a boat, you should pack anti-motion sickness medication like Dramamine. Pack your personal medications as well if needed.
Here are the other things to pack:
Good and drinks (you may be allowed to bring alcohol, but it depends on the charter captain)
A good outfit like long-sleeved shirts, a bathing suit, fishing pants, and boat shoes
Your phone and other valuables
Your fishing gear, though the charter will most likely offer this as well
Communicate, Communicate, Communicate!
The best way to prepare and know what to expect from your Miami fishing charter is by communicating with the charter captain. Make sure you talk with the captain before booking to know what kind of trip you should get, then discuss your expectations with him after booking so the information he receives will help him plan the trip.
You should also ensure that you read through the fishing charter's rules and policies in terms of payment, refunds, cancellations, and rescheduling. You should also know where to go on the day itself and that you arrive earlier than the scheduled time to avoid missing your trip altogether. You can use the time before boarding to talk with the captain and crew.
Before boarding, you will also likely receive a safety orientation and a brief discussion of what to expect during the charter. Listen to what your captain and crew have to say to prevent any accidents and issues onboard.
What Will You Fish For?
Do you know what you plan to fish for in a Miami fishing charter? Would you like to go deep-sea fishing and score huge wahoo? Or maybe want a more laidback adventure near the shore?
Knowing what fish you want to catch will help you choose the appropriate charter trip and help your captain as he plans the course of the trip. Charter captains can let you know what you can expect to catch during the trip, depending on the season and the planned itinerary. If you discuss with him the fish you'd like to catch, he will navigate you and other joiners to the hottest fishing spots with a ton of species to reel in.
From dolphins, tuna, grouper, tarpon, snapper, kingfish, sailfish, marlin, and sharks, among others, you won't have trouble coming home empty-handed!
Where Do You Want to Fish?
What's amazing about Miami is how many fishing spots there are, may it be inshore or deep-sea fishing. There are so many places you can fish when in Miami, so if you know where to go, let your captain know!
But if you're a Miami newcomer and don't know where to begin, that's okay too. Just make sure that you let your charter captain know what fish species you would like to target and he can handle the rest.
What to Expect
If you haven't gotten a fishing charter yet, you can check out what we have to offer here at Miami Florida Fishing Charters. We have a wide directory of charter captains and fishing guides ready to help you catch your target species, and you can expect these from your charter trip:
An amazing fishing experience without negative attitudes or hassle
Friendly captains and crew members who have the training, experience, and passion for fishing in Miami
Consistent fishing catching action when you're in the right area and the bites are hot
Educational experiences as the crew will teach you how to use the gear and fishing techniques
After all that's said and done, don't forget that you're in Miami and can plan what happens after your trip! Your catch will be packed on ice, which you can take home to clean and cook to celebrate your hard day's work. And once you do enjoy a meal made from the fish you caught, what happens next?
Miami is home to one of the liveliest ports, particularly South Beach, so make sure you also prepare for a lot of nightlife, visit the amazing tourist attractions, get your sunscreen ready for the beach, and eat tons of delicious food from the restos Miami offers. From the waters to land, you can make a ton of amazing memories in Miami.
Wrapping It Up
Hopefully, our article on how to prepare for your Miami fishing charter helped you out! If you still haven't found the best charter for your fishing trip, don't hesitate to contact us now.