Everything You Need to Know About Miami Fishing Charters
If there's one thing many people admire about Miami (besides the beaches and weather), it's got to be the fishing action. That's right folks, Miami is a fishing hotspot where you can find beginner and experienced anglers alike taking their chance to catch their target species in the vast waters. As such, we highly recommend hiring or joining Miami fishing charters!
But what exactly are fishing charters in the first place? Continue reading as we share what you should know about Miami fishing charters.
Everything You Need to Know About Miami Fishing Charters
As many of you know, fishing charters are operated by captains and their crews, who will provide the boat, equipment, and local knowledge. These three are the major factors you require for the best fishing experience possible.
Let's take a deeper look into Miami fishing charters:
The Kinds of Fishing Charters
There are four major categories of fishing charters, and knowing all of them will help you choose which one is best for your wants and needs:
Freshwater: This is also called inland fishing, which covers every type of freshwater fishing. There will be a diverse range of fish species, environment, and tackle used here, so you can expect to go bottom fishing, fly fishing, or even flipping for bass.
Inshore: This is a broad category under saltwater fishing. It will take place from backwater estuaries to beyond beaches and jetties. When you fish along the coast or the shallow backwaters, you can expect nonstop action from the dock. You'll most likely do wade, jetty, or flats fishing through styles like casting, drifting, or bottom fishing.
Nearshore: Nearshores a good balance between less travel yet big fish. Expect calmer seas but hard-fighting fish made for any angler. The more common fishing techniques used for these trips are casting, trolling, or bottom fishing.
Offshore: Now this is where the big guns choose to go! It's a popular fishing category happening miles from shore as you chase big sports fish! Also known as deep sea fishing, it takes place in much deeper waters where you can catch species like sailfish or tuna. You can go drifting, trolling, or bottom fishing.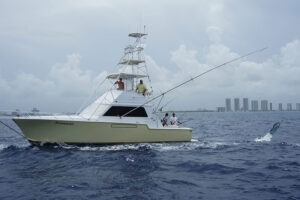 Choosing Miami Fishing Charters
Among everything you must know about Miami fishing charters, another crucial thing to know is how to choose the best one for you. Here are a couple of considerations to think about as you search for different charters available:
The Captain
The captain is the one who makes the trip, so you must know more about them before booking. Learn more about the charter captain, such as how long they have been in business if they're from the area, previous client experiences or reviews, and the like.
You'll want a local captain who's been fishing for years, as they will be able to tell the difference between a good day and the ultimate fishing adventure.
You can learn more about charter captains online, where they have their own websites and social media pages to share what they are currently catching and pictures of their charter trips.
But don't stop there! You must also research the captain on third-party review websites like Yelp or TripAdvisor. Check what they are rated as by previous clients and their reviews. That way, you know what to expect from the captain and your trip, and if it's worth doing business with them.
The Boat
While most people would first look at the boat when choosing a fishing charter, it isn't an absolutely crucial factor. Surprisingly, the boat won't affect your fishing trip as much as one would expect.
There are two major kinds of boats you'll use when charter fishing:
Center Consoles: These are fast with little to no shade, so you will be more exposed to the elements. However, you get more freedom when fishing.
Sports fishing boats: These have above and below deck areas for protection from the weather and if you're feeling seasick. They are also more stable.
The maximum capacity of these boats is 4-6 passengers, which depends on the charter captain's license and not the boat size. A boat may legally hold four passengers but would be best suited for two.
Note that a boat measuring about 22 feet is alright for a family of four. Sport fishing boats would usually have space for six people.
Licenses and Permits
Ensure that the fishing charter you choose has all the appropriate paperwork, licenses, permits, and certifications. You wouldn't want to get caught in the middle of problems with the Coast Guard. The consequences may get even worse!
Legal paperwork will also let you know you are in safe hands with a properly trained captain who knows what he's doing.
You'll want to ask for the captain's license, his permit to operate, and the insurance. Do note that permit laws would vary from state and country!
Price
Of course, you can't forget about the price as well. Here's a pro-tip: Do NOT book the cheapest charter available because they are most likely dirt-cheap for a reason. They might have worn equipment, an old boat, or maybe lack insurance!
Or more commonly, cheap charters would have a ton of additional hidden charges or costly policies. That's why you must know what's included in the charter trip before booking. For example, ask if the bait and fuel are included, if the crew can clean your catch, and if there are refreshments provided.
You can find this information online, but it's also best to call the captain to make sure.
Wrapping It Up
Hopefully, you learned more about Miami fishing charters and how to choose the best one based on our article! Now that you're more familiar with what to expect, contact us now and join a fishing charter, where you can have the time of your life learning new skills. Who knows, you may catch a monster fish, too!