Miami Fishing Seasons for Deep Sea Fishing
Miami, Florida is known for being one of the world's ultimate vacation destinations. But did you know that the city is also home to a ton of fishing opportunities? You can find numerous fishing charters for hire, along with thousands of anglers visiting Miami for the fishing action.
But before you head there to get a piece of that fishing action, you'll first need to consider the Miami fishing seasons for deep sea fishing. That way, you can time your trip right and make the most out of your days in the deep waters. Read on to learn more!
When to Target Miami Deep Sea Fish Species
There are various factors to consider when we talk about the Miami fishing seasons for deep sea fishing. The most significant factor, in particular, is the type of fish you're targeting. We'll talk about the different fish species you can catch when deep sea fishing and the best times to catch them.
Tarpon
Tarpon fishing would peak in Miami waters from May to July. These fish would flood the shallow waters and inlet areas, usually ranging from 20-40 pounds. You might even get lucky and find tarpon fish weighing up to a whopping 100 pounds.
Tarpon can hit hard, and you can enjoy the thrill of reeling one in. While you can still fish for tarpon after June, they're more challenging to find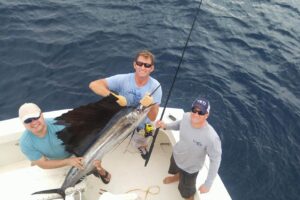 Sailfish
Sailfish rule the deep Miami waters from September to November, returning from January to March. These fish are among the most iconic deep sea species, coming within two miles from the Miami shoreline. You won't need to go too far to catch these fish, and you'll still have a ton of fun as sailfish tend to jump and spin out of the water after hooking them.
While sailfish are popular all year round, we recommend avoiding April because they basically go extinct during that month for some reason.
Swordfish
Miami is known as the world's swordfish capital for a great reason!
The Gulf Stream would feed the Miami waters with swordfish most parts of the year. However, the peak season for these fish would be from August through November, then January to February. You can even try fishing for swordfish at night for the ultimate experience.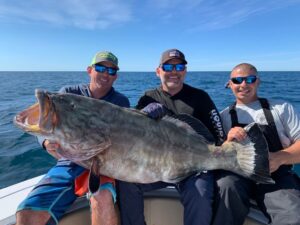 Grouper
Groupers are among the few fish species in Miami that have a season regulated for its harvest. While you can target them outside their season, they are catch-and-release. You can catch groupers from May to December when they have an open season.
Note that black and gad groupers can be caught to keep during their open season, while goliath groupers are strictly catch-and-release all year round. That's why it's essential to be aware of the different Miami fishing rules and regulations.
Barracuda
Barracudas are a staple in Miami waters, found inshore around the piers and docks, along with offshore areas. You can find barracudas as small as five pounds while others can go up to 30 pounds!
You can catch these fish year-round, but they have downtime in May and June, though it's only a minimal decrease in the fishing action.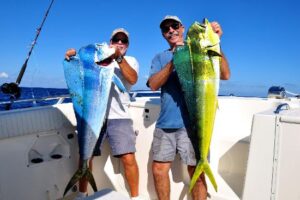 Mahi Mahi
Mahi Mahi, also called dolphinfish, are seen as year-round fish, though experts recommend targeting them during the spring and fall months as their feeding activity increases.
During the spring season, they feed heavily after winter. They are in a feeding frenzy to prepare for the colder season in fall! Since they eat more during these times, you can expect bigger Mahi Mahi.
Miami Fishing Seasons for Deep Sea Fishing
Now that you know the type of fish you can catch in Miami and when, the next question is: When's the best time to fish in Miami?
The best time you should look into is during the summer to fall seasons, as this is when the highest number of fish head to Miami's waters. The water temperatures begin to feel just right for numerous species.
That said, the Miami waters would usually stay warm most of the year since it's close to the Gulf Stream, pulling in the warmest water and keeping a steady flow of fish. Because of that, you can fish any time of the year, though you have more fishing opportunities come summer and fall. It's also the time when fishing charters are at their busiest, so make sure you book in advance.
For those who want a more overlooked time, then you can opt for spring. You still get fishing opportunities, and it won't be as busy compared to the vacation season come summer. April to May are great months to target!
As for the best time of the day to fish in Miami, it's got to be during the early pre-dawn to dawn hours. That's when fish are at their high activity peak, though various species are active throughout the day. Even then, you'll find a lot of anglers out at such an early time, especially during the vacation season!
If you plan to fish from the shoreline or pier, expect a crowd in the morning. You can also fish during the late afternoon, which has a lot of fish activity.
Wrapping It Up
For those who want to fish in Miami, you need to time your trip right to get as much fish as you legally can! While we highly recommend heading to Miami during the summer and early fall, you can skip most of the crowds by fishing during spring, particularly from April to May. We highly recommend joining a fishing charter to know when and where to find your targeted fish species with an experienced captain and crew to guide you.
If you're still looking for fishing charter services in Miami, don't hesitate to contact us to learn about our services and rates. We'll make your trip a memorable one, whether you want inshore or offshore fishing!