Miami Fishing Seasons for Deep Sea Fishing
Miami is considered a true mecca for fishermen, and for great reason! There are a ton of fishing opportunities to take advantage of here, from the shallow flats of Biscayne Bay, the expansive Florida Bay, down to the depths of the Gulf Stream. Not only can you find numerous fish species, but fishing charters and guides, too.
This probably has you question: Why go Miami fishing with an experienced guide? And what can you expect when you're with one during a fishing trip?
This article will answer all your questions, so read on!
Benefits of Miami Fishing with an Experienced Guide
Both beginner and seasoned anglers can reap benefits when going Miami fishing with an experienced guide, such as:
Increase the Chances of Success
When hiring a guide, you won't just pay for one day of fishing. You are also. Hiring a guide for their experience as skilled anglers in the area. Reputable fishing guides put in their time and effort to learn and understand the different fish species, their activity, location, and even their fishing skills.
When you hire a guide, you can increase the chances of catching more fish as they can lead you to the best fishing spots and teach you how to fish. This is beneficial for families with children who want to try the sport.
If you're totally new to fishing, a guide will show you how to begin the sport. A trusted fishing guide can teach you the basics excellently, from casting to rigging up rods. They have taught a lot of beginners as well and will share tips you probably won't get from learning online!
Even skilled anglers will learn something new from a fishing guide, so think of it as an educational class! You get to learn more about how to fish in Miami waters and the techniques that work best for certain fish species you've still yet to catch for the first time. You have the day to ask them all the questions and learn various techniques, even getting the help you need when you have trouble catching a specific fish species.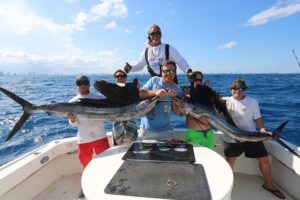 Save Money
Yes, hiring a fishing guide can actually save you more money in the long run, especially if you're a beginner. If you just began the sport, you most likely don't have the proper equipment or gear to catch fish. With fishing guides or charters, they already provide what you need.
How does this save you money?
You won't need to travel with bulky equipment, nor will you need to spend a lot on fishing equipment that might actually be inappropriate for your desired fishing experience! You get to learn the different fishing gear first and know what's best for you before investing in equipment.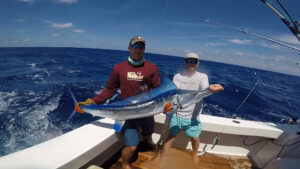 Guide Through Waters
Each fishing location is different, with many factors coming into play when going to and choosing a fishing spot, from structure to food sources. It would be easier to navigate the waters if you're a Miami local, but for those visiting, you'll have a difficult time looking for the best spot. Not only can you end up lost, but you also may waste more time looking for the best spot to catch your targeted fish rather than actually fishing.
A reputable Miami fishing guide has already fished in most, if not all, the known fishing spots of the location. They know the bodies of water like the back of their hand, which have you spend more time fishing and increasing the chances of catching more fish.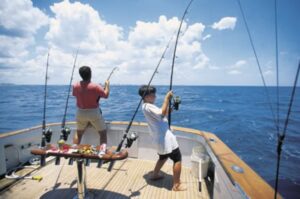 Choosing an Experienced Fishing Guide
When wondering what to expect, the experiences will vary from fishing guide to fishing guide. But as long as you get a trusted guide with many positive reviews, you'll end up having the time of your life with more fishing success.
If you hire a fishing charter with a guide, the captain will already have received your information, preferred fishing experience, and specific fish to target. The captain and crew will boat out to different spots where they believe people have higher chances of catching fish.
The guide will be with you the entire time to help you out when needed, also providing extra tips on improving your technique or using the gear. Plus, if you catch a bite and it's a big one, your guide will be there to help you, from added strength to moral support! If you have to let the fish go, that's alright, as the guide can help you prepare your rod for your next attempt.
If you're interested in hiring a fishing guide, here are a few helpful tips to follow:
Make sure you look for someone with an excellent reputation, so you can ask for recommendations from friends and family or search online for genuine reviews.
Ask about the fishing guide's catch claim so you won't feel disappointed if you wanted to take fish home, only to find out it wasn't allowed.
Read the fishing guide's website to really know what to expect when in a charter with them, from the fish to catch to the prices. Contact them beforehand to ask any questions before booking!
Look for the fishing guide's fishing license and any necessary permits to prove they are allowed to work as a guide.
Check if the fishing guide is adaptable and will have backup routes in case of poor weather or no fish to catch in certain areas.
Wrapping It Up
Whether you are a beginner angler or seasoned fisherman, you'll get to benefit from an experienced guide when in Miami. From learning new ways to catch fish to a safer trip, you'll get to reap these benefits as long as you hire the most suitable guide for you.
Are you planning on Miami fishing with an experienced guide? If you're still looking into your options, consider contacting us for fishing charter services for the full experience!