Why Book a Private Fishing Guide in Miami
When in Miami, one of the things you must do is go fishing! There's nothing like the vast Miami waters filled with a myriad of fishing opportunities, whether you're fishing inshore or in the deep seas.
But wait! Before you even head out to Miami for some fishing action, have you ever considered how you will navigate the waters? This is where a private fishing guide in Miami comes along.
But why get a private fishing guide in Miami in the first place? Read on to learn all about the benefits they offer!
Why Book a Private Fishing Guide in Miami?
As the name suggests, private fishing guides are individuals who possess the training, skills, and experience to ensure that you have an amazing time out in the waters. Compared to the typical fishing charter, a private fishing guide in Miami will offer their complete attention to you and your party.
Private guides are only limited to you and your family, friends, and colleagues. On the other hand, public charters do not have these limitations. They would accept anglers until they reach the maximum capacity, whether people know one another or not.
Private fishing guides are a bit more expensive than public ones, but they do offer many benefits you can't get from a public charter. Here are some of the reasons why you should consider booking a private fishing guide in Miami: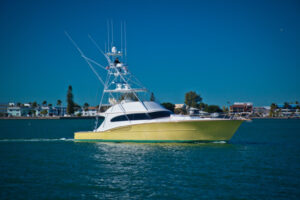 Fishing Success
Obviously, your goal is to catch fish when you're in the waters! But if you are a tourist or new to fishing, you might be wondering how you can garner more success in catching fish.
To do that, you'll want a private fishing guide in Miami. A private charter will increase the chances of catching more fish compared to going on your own or joining a public charter.
This is because private charters are generally smaller, which means less competition with others on the boat and more time catching fish. Moreover, you'll likely be on a smaller and more maneuverable boat that can go to various places that a larger public charter vessel can't.
Another notable advantage is how private fishing guides will get to know you and your level of fishing experience better. He will then tailor the fishing trip to your wants and needs, from your skill level to the fish you want to catch. Unfortunately, public fishing charters won't have a similar degree of flexibility.
Besides the fishing success, you can also get more time fishing! Rather than waiting for your turn to fish, you can get right on it the entire trip. No one will be fighting over the equipment to use, the crew to talk to, or the space to fish in. You have all the freedom on the boat, which can also help with fishing success.
Personal Attention
Large public fishing charters won't be able to give you the same degree of flexibility or personal attention a private fishing guide in Miami would be able to. That is because there may not be enough crew members to provide personalized services or the captain is too busy ensuring everyone is satisfied. Sometimes, though this happens only with unreputable charters, the crew won't care about their guests enough to give the attention needed!
Private fishing guides won't be this way. Most private fishing guides would take a maximum of six people onboard each trip. You and your party will be in close proximity to the charter captain and crew the entire time while you're fishing.
That means you have professionals with fishing experience that you can always ask for help with when it comes to anything related to fishing. You can even strike up a conversation to pick up on helpful fishing tips and tricks for Miami waters. After all, the captain and crew are likely locals who have been fishing the waters for years! In turn, you will have a higher chance of catching fish and learning new things for future trips.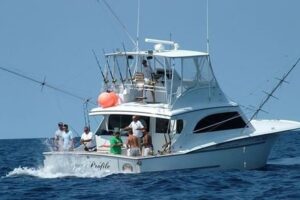 Relaxation and Privacy
You can't beat a day out in the waters, waiting to catch a bite. What can be more relaxing, especially when you're with the ones you love?
That's the biggest advantage that a private fishing guide in Miami would offer, making them worth the money. You get relaxation and privacy, without anyone judging you or your fishing abilities. You also won't have to deal with strangers, you can just be yourself and spend the day with those whose company you know you will enjoy.
Rather than feeling stressed and grumpy, you will feel relaxed and exhilarated the entire time. Think about it – Would you rather be in a boat filled with people you don't know, or have a private fishing trip with your loved ones as a fishing guide is there to help you the entire time?
Of course, there are many other benefits to getting a private fishing guide in Miami, some of which you can also reap with a public charter. For starters, you will be taken to specific areas where there will most likely be a catch. Moreover, you have everything needed with a guide or charter, including the crew, fishing gear, and sometimes food.
And lastly, you can't beat being with someone who knows the Miami waters like the back of their hand. They are also aware of the fishing rules and regulations of the state, so you won't get into any trouble with the coast guard.
Wrapping It Up
As you can see, a private fishing guide in Miami will always be worth the experience, whether you're a tourist or local. Don't sleep on getting a private fishing guide, because you're bound to reap numerous benefits, from someone to help navigate the waters to being taught new techniques.
So, if you're searching for a skilled private fishing guide in Miami, don't hesitate to contact us now and we can connect you with our wide network of fishing charters and guides!