Why Book an Inshore Fishing Charter in Miami?
We all love the Miami waters because of the excitement it brings when inshore fishing! You never know what you're going to reel in, from trout to tarpon. Whether you're a beginner, with children, or a seasoned angler, there's always a ton of fun when fishing inshore, don't let people tell you otherwise.
Even if inshore fishing may seem "boring," there are exciting opportunities. It's also a great way to enjoy yourself if you have a limited time or will be with children learning to fish.
When planning your trip, you may have been recommended to book an inshore fishing charter in Miami. But why? Read on as we share the reasons why an inshore fishing charter in Miami is a good idea.
Why Book an Inshore Fishing Charter in Miami?
Inshore fishing is a broad category under saltwater fishing that takes place in, you guessed it, inshore. More specifically, you will fish in areas like backwater estuaries or beyond the beaches and jetties.
It's similar to nearshore and inland fishing, sharing the same techniques to catch fish. This is because the species you can catch inshore also come from nearshore.
While you can fish from the docks, you can also join a charter to take you a bit farther for more action and a complete experience. Here are just some of the benefits you can reap when booking an inshore fishing charter in Miami: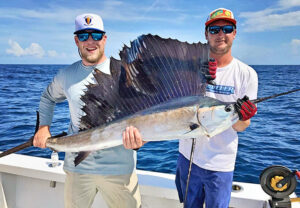 It's Safe
As long as you do your research and find a reputable, certified fishing charter to book, you can be assured of your safety! The charter captain and crew will do their best to maintain a fun and secure trip, prioritizing your safety.
If unexpected situations occur, such as bad weather or accidents, the captain and crew will know how to take care of them. They are knowledgeable on how to handle emergency situations related to the boat, and they are also first aid certified, so in case of sickness and injuries, they can tend to their clients until the boat reaches the shore.
Safety is the number one benefit of charters, as the captain is required by law to ensure every safety measure is in check. Moreover, they will give a brief safety orientation so you know what to do and what not to do on the boat so you can focus on having fun rather than risking your life!
You'll feel less worried and more focused on what you want to do: To catch lots of fish!
You Receive Complete Services
This is another significant benefit to an inshore fishing charter in Miami, and why you get great value for your money. Think about it – If you will go fishing on your own, you'll need to take care of everything, and even buy certain gear you might not have yet.
This will mean taking care of the boat rental, insurance, fishing gear, and food, among others. You'll also need to navigate the waters yourself and make sure everyone on the boat is attended to. And let's not talk about the risk of running into unexpected situations and emergencies!
With a fishing charter, you won't need to be the one to plan and pack for the entire trip. The charter captain and crew will be up bright and early to check the boat and ensure everything is ready to go. They will pack the gear, prepare the life jackets, provide the bait and tackle, and even prepare meals if this is included in your package. The charter captain will even contact you to ask about your expectations so he can make an itinerary based on your wants and needs.
All you need to do is to sit back and relax as you enjoy the day out. As you can see, you're paying for more than just the service! You're paying for everything you will need when fishing (and more).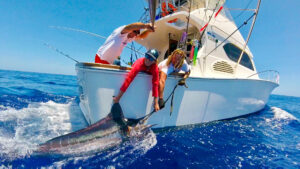 Learn New Things
The captain and crew aren't only there to ensure your safety and navigate the waters. They are experienced anglers with knowledge of how to fish the local Miami waters, too! This means that you can learn so much from them about catching fish.
They know the waters and the fish like the back of their hands, so they will teach you how to use the gear, the best spots to fish in, the factors to consider when choosing a spot, and more. They can even help you reel in your first catch of the day.
All the information you'll learn from the captain and crew will be useful for future fishing trips in Miami and beyond. You're getting fishing lessons out of your trip as well!
This is why an inshore fishing charter in Miami is great for beginners and families with children. You'll get to learn the ropes from the captain and crew, which in itself, is a memorable experience. You never know, you can catch your first fish with the charter and it will be the beginning of your fishing journey!
Since the captain and crew know the waterways and can read the water and weather conditions, they can take you to the best fishing hotspots for more chances of catching fish. No need to worry about locating fishing spots yourself, nor will you run the risk of getting lost. The captain will lead the way and make sure it's safe doing so.
Wrapping It Up
Going fishing on your own is quite a tiresome task, which is why booking an inshore fishing charter in Miami is the way to go. You won't have to deal with the stress that comes with tending to the boat, navigating the waters, and taking care of emergencies by yourself. Instead, you have a certified captain and crew who can do this for you and even teach you more about fishing.
Don't wait any longer and contact us now to book a fishing charter for your upcoming Miami trip!