Why Book an Offshore Fishing Charter in Miami?
Miami is home to endless fishing opportunities, especially when you're heading to the deep blue sea! That's why when you're in the Magic City, you must try your luck and go offshore fishing for a ton of thrill and adventure.
As you plan your ultimate fishing trip, you'll be coming across various choices, including whether or not it's worth booking an offshore fishing charter in Miami. While some people have tried deciding against it, you may be surprised with the many benefits a charter offers!
Read on as we share the reasons why you should book an offshore fishing charter in Miami.
Why Book an Offshore Fishing Charter in Miami?
Deep sea fishing entails heading out to the deep waters. We're talking waters over 100 feet deep, far away from land to the point you can't see the shore! This may sound a bit scary, but it's actually an exciting time where you can land monster fish. The thrill of reeling in a huge fish that will put up a fight is exciting and not for the faint of heart!
As such, it's a good decision to book an offshore fishing charter in Miami for more guidance throughout your trip. Check out these reasons why these charters are worth booking: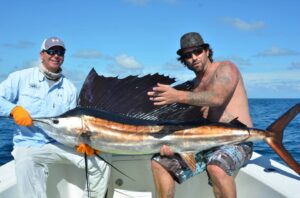 Safety
Safety is the number one benefit fishermen reap when booking an offshore fishing charter in Miami. Fishing charters will head out to the waters almost every day with different groups, loaded with knowledge and experience to handle daily trips. They prioritize safety above anything else, ensuring everyone onboard is protected and will have a great time until they disembark.
Plus, fishing charters are required by law to ensure all safety measures are put in place. You'll experience it from the moment you arrive and meet the crew. They will provide a safety orientation before going onboard the vessel, tending to the ship as you enjoy your trip, and make sure you are safe until you're back on shore.
You won't have to worry about anything because you're in good hands. The only responsibility you'll have is to listen to the captain and crew, as well as figuring out how to reel in the big one!
All-Inclusive
Here's another huge benefit an offshore fishing charter in Miami offers. There's no need to spend on anything else but your food and personal belongings (other than the charter booking itself, of course).
These are some of what you can expect to be included in your charter:
The boat and experienced crew
Fishing gear
Bait
Lunch and drinks (though this will depend on the charter)
Life jackets
Training and learning experiences
What you should be bringing are:
Sun protection (hat, sunscreen, long-sleeved clothing)
Extra clothes
Personal medication
Phone and camera
Money
Captain Knowledge
Besides the adventure you'll experience when on an offshore fishing charter in Miami, you'll be able to learn so much from the captain and crew! Again, the captain and crew have been providing charter services for years, so they know how everything works, from tending to the vessel down to helping you reel in the big one.
The captain and crew are well-knowledgeable on how to find and catch fish, along with the rules and regulations involved. Their major goal is to ensure everyone gets to catch fish!
Experienced fishing charters don't only know how to find and catch fish. They also know where to find the fish, how to set your gear up, and help you get fish in quick time. You'll also learn so many things from the crew, who will share fishing techniques you can use even in future fishing trips.
So, you won't only get a fishing trip, but you'll get amazing lifelong lessons for the next trips to come.
And there's more than just learning to fish! The captain and crew know the waterways as well, which plays a humongous role for success in the water.
Professional charter captains and their crews possess this knowledge, being adept in reading the weather and water conditions. Because of this knowledge, the captain and crew can take you to the best spots quickly without risk of getting lost. This is safe and efficient compared to navigating the waters yourself, where you run the risk of not being able to catch any fish.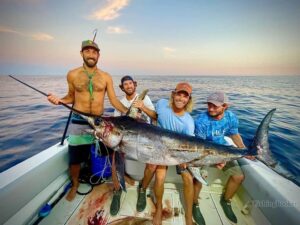 Save Money and Effort
Some anglers think that charters are expensive, but on the contrary! You can actually end up saving yourself money, especially if you're a first-timer or just traveling to Miami for vacation.
This is because an offshore fishing charter in Miami includes everything, as we mentioned above!
Imagine if you were to rent your own boat and gear when in the city. Sure, the rental fees may appear inexpensive, but think of the upkeep you must do throughout the trip and even until the end. You'll have to prepare the boat and equipment, navigate the waters yourself, set up your equipment, and reel in your monster fish without the necessary and experienced manpower!
You won't end up enjoying your fishing trip because you had to take care of so many other things, to the point you spent more time performing tasks rather than fishing.
But when you book an offshore fishing charter in Miami, you already have the boat, gear, licenses, and even the experienced captain and crew to guide you all throughout the fishing process! You get more than what you pay for, making it a more suitable option in the long run.
Wrapping It Up
When you're considering whether or not you should book an offshore fishing charter in Miami, make sure you choose the right one. You can reap many benefits of a quality charter, but it first takes proper research and communication before you book a trip.
So, if you're planning to visit Miami for some of that fishing action, contact us now! We can connect you with trusted fishing charters you will definitely enjoy.