Miami Bass Fishing Charters
Miami is highly known for its beautiful tourist attractions, beaches, and of course, the fishing opportunities. You'll find a ton of incredible fishing charters and anglers here, with numerous fish species to catch. One of the best fish to catch in Miami is bass, with Miami bass fishing charters around to help you catch a few!
But you might be wondering, why bother joining fishing charters? Read on to learn more about Miami bass fishing charters and how to choose the best one.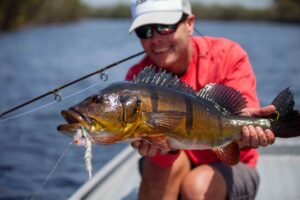 About Miami Bass Fishing
You can catch different kinds of bass species in Miami, including the popular largemouth bass. Besides that, you can catch peacock bass, clown knife fish, tarpon, tilapia, and more in Miami's freshwater canal systems and Everglades.
The largemouth bass is forced to compete with peacock bass in our waterways, which has put a damper on population growth, but not to worry. There's a thriving bass fisher in places like Lake Okeechobee and the western part of the Everglades.
You're probably wondering how to properly fish for bass in Miami. Before we get into Miami bass fishing charters, here are some tips and things to know to target bass:
When talking about bass fishing techniques, they don't usually turn down lively silversides when fishing in canal banks or structures in lakes. However, you can opt to use artificial lures over live baits, especially when targeting largemouth bass.
The best time to target bass is when they are usually out during the summer season.
When in Miami, the best place to target bass is in the Miami falls canal system, which is based in Dade County. You can also try other sports like the Aerojet Canal, Everglades, or Snapper Creek.
How to Choose the Best Bass Fishing Charters
Now, on to the main part: Miami bass fishing charters. These services are suitable for everyone, especially beginners, tourists, and families getting into fishing.
While we're aware that fishing charters cost a bit more than other fishing types in Miami, it's also considered the best to get the most out of your fishing trip! If you want an unforgettable experience with more chances of success in catching bass, then you'll enjoy the fishing charters.
The best part is that there are fishing charters made to target certain species, like bass. Here are a couple of benefits Miami bass fishing charters offer: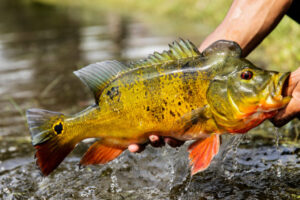 Professional Captain and Crew
The first benefit of hiring Miami bass fishing charters is the service you receive. Usually, the captain and crew are locals who have years of experience fishing in Miami, so they are aware of all the best fishing spots for bass and how to catch them.
The captain can easily navigate the Miami waters to find the best spot for your targeted species. And once you're ready to cast, the crew is there to help with their fishing skills and experience.
If you're not sure how to use the equipment or the appropriate fishing technique to perform, they'll show you what to do and extra tips to get that bite. Even seasoned anglers can learn new things from the crew and fellow anglers joining the charter.
Not only do you get a professional captain and crew, but you'll also have the boat ready. You can choose between different models for private charters, though this is usually up to the captain. No need to hassle yourself into finding a boat rental!
Fishing License
Fishing licenses cost about $20 or so, depending on how long you need the license and the type of fish you want to catch. You can readily avail yourself of a fishing license in many stores, though fishing charters already have this ready for you. The captain holds a fishing license, so you won't have to spend time, money, and energy availing one.
Plus, the crew is aware of the Miami fishing rules, so you won't risk breaking any that can risk your future fishing trips.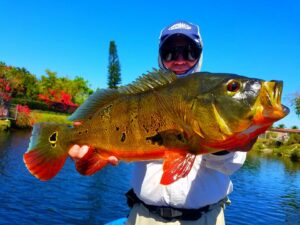 Fishing Equipment
No fishing equipment? No problem! The fishing charter usually includes fishing equipment for everyone to use.
That way, you have the option to bring your own equipment or use the charters without needing to rent. It saves you money as you won't risk purchasing the wrong equipment or only leaving newly-bought equipment in storage for most of the year. Plus, if you're not familiar with how to use fishing equipment yet, the crew members can teach you how.
Stay Safe on the Waters
Some people may presume that you save more money when renting a boat and maneuvering it yourself. But think of the extra costs, such as:
Boat rental and insurance
Buying, renting or traveling with your fishing equipment
Hiring a fishing guide or captain (if you choose to maneuver the boat yourself, there's a chance you'll get lost or end up not catching any fish)
The cost of time maneuvering the boat and finding hotspots, especially if you're not a local
Your fishing license
And many more!
It may cost a bit extra when you have a fishing charter, but all that is geared towards the stellar service from a local crew. The captain and crew know where they are going and will assure you that you get to catch fish while having fun.
Wrapping It Up
If you're fishing in Miami, you've got to try catching a few largemouth basses, especially if you're still starting or want to improve your fishing skills. Whether you're a beginner or expert angler, you can always learn more about improving your technique through a fishing charter with a professional crew. There are many benefits a Miami bass fishing charter offers, as long as you choose the right one to transact with.
Hope we helped you out! If you plan on hiring a fishing charter for your Miami bass fishing trip, do contact us, and we can help meet your needs.