Peacock Bass Fishing in Miami
When you're planning to fish in Miami, Florida, you're in for a treat! There is a ton to say about the wild fishing action Miami offers, especially when you want to head out for an exotic adventure. Florida is home to the unique-looking Peacock bass, known for their beauty and strength in freshwaters.
While Peacock bass is a native species to South America, they were introduced to Florida in the 1980s to fight invasive tilapia and Oscar fish. Fast forward to today, this freshwater species has adapted to their new home and has now become an iconic part of Florida's fishing scene.
So, how can you go Peacock bass fishing in Miami? Here's a guide for you!
Peacock Bass Fishing in Miami
When you plan your Miami fishing trip, peacock bass may not be the first species that comes to mind. But you'll be surprised with how many fishing opportunities there are for this species here!
If you've got your eye on catching peacock bass, check out these tips and information to catch them.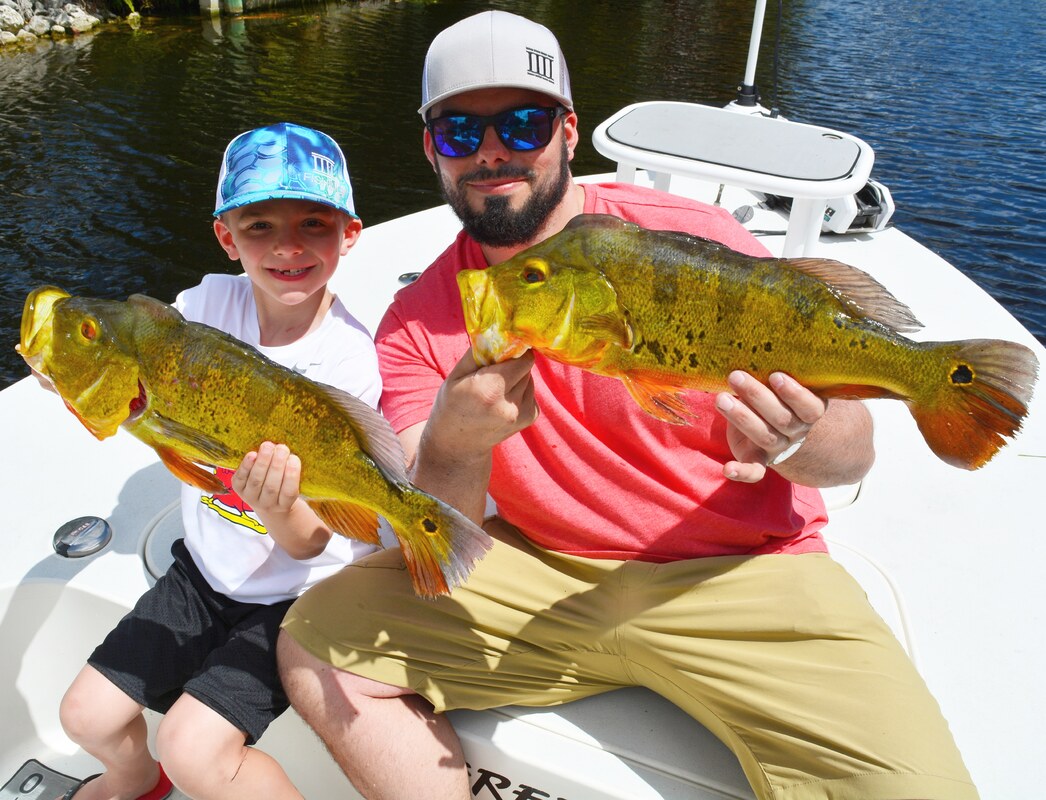 About Florida Peacock Bass
If you aren't familiar with what peacock bass are, they are also known as the butterfly peacock. They are a prevalent freshwater gamefish introduced to South Florida in 1984, which you can catch by shoreline or boat through various tackle and bait.
There are 15 different species of peacock bass, all of which varying in size. You can mostly find butterfly peacock bass in the USA, a medium-sized species weighing about 6-15 pounds.
The largest species is the speckled peacock bass, which grows over 36 inches. Unfortunately, while speckled peacock bass was also introduced to South Florida waters in the 1980s, none survived and haven't been seen in the waters for over 16 years. If they were ever seen, they are illegal to catch.
As for the smallest species, it is the royal peacock bass, which grows only up to ten inches long.
How to Identify Peacock Bass
What do peacock bass look like, exactly?
Their most prominent characteristic is their color! Their bodies are generally light to dark yellow with bright orange fins. They also have vertical black bars on their sides with a light or almost white underbelly.
Similar to the largemouth bass, peacock bass has a jar that is hinged and reaching beyond their rear margin.
When and Where to Target Peacock Bass
There are a lot of these peacock bass around Miami, particularly in the local canals.
We recommend heading to the Snapper Creek and Tamiami Canals System to target this species, with over 40 miles of fishing grounds to navigate around in. You can usually find peacock bass hiding around bridge pilings, rocks, and near underwater construction. 
As for when you should target peacock bass, you'll be happy to know this species love warm water. This makes the city's mild climate perfect for them to swim around all year long. As such, you can target peacock bass during any season.
With that in mind, there are certain months when it's best to head out specifically for peacock bass. Local fishing guides and charter captains suggest March to end of May are the best times to target peacock bass. You'll want to hunt them during the day when there is a lot of light, as this species prefers warm waters. No need to wake up extra early or stay overnight to try catching them!
Make sure you avoid coldwater temperatures, as peacock bass is known to die in waters colder then 62 degrees. Moreover, you're better off staying in freshwater, as peacock bass never head out to saltwater and are restricted to salinity levels similar to what largemouth bass tolerates.
Rules on Peacock Bass Fishing in Miami
When going peacock bass fishing in Miami, it's crucial to know the state rules and regulations to conserve their population and avoid hefty penalties.
The bag limit for peacock bass is two per day, with only one that can be longer than 17 inches. If you catch butterfly peacock bass measuring over 18 inches or weighing over five pounds, they may be eligible for the Big Catch Program, which you can learn more from the FWC.
Best Lures and Techniques
Using the right fishing equipment is a must when catching any species really. When you're targeting peacock bass, it's best to use topwater lures, with or without propellers. You can also use minnow imitating crankbaits or jigs fished on casting and spinning tackle if you will use artificial baits.
To sight-fish butterfly peacock bass, you can try small tube lures and jigs, which are effective when fish are aggressively guarding spawning beds near the shore.
While one may presume bigger baits measuring up to five inches would entice larger fish, baits less than three inches long produce consistently compared to larger counterparts. You can still expect big peacock bass to take small baits!
You can also consider fly fishing for peacock bass, which is a good choice for aggressive Florida species. We recommend using deceivers, epoxy minnows, clousers, Dahlberg divers, poppers, or zonkers. You can find success when using gold, firetiger, and natural-colored lures.
As for the fishing gear, many anglers prefer using light spinning tackle featuring a 6-8-pound test line. Since butterfly peacock bass are strong and put up a fight, you won't have to use massive lines. You'll get more success with light lines and tippers, which generate even more strikes compared to heavier ones.
Wrapping It Up
Hopefully, you learned a lot about peacock bass fishing in Miami. Now that you know more about how to land one, make sure you start planning your trip now!
Also, why not consider booking a fishing charter to learn more about peacock bass fishing in Miami? An experienced captain and crew are experienced and can help you increase the chances of landing peacock bass!
If you haven't booked a fishing charter yet, contact us for more details!