What to Look For in a Miami Fishing Guide
Miami is home to numerous fishing opportunities, so you know what that means! It's time to head on to Miami to explore and catch the big one. But hold up – What if it's your first time going to Miami waters, or if you're a total beginner at fishing?
That's where Miami fishing guides come along. Sure, you may have to pay a bit extra for the service, but doing so greatly improves your chances of locating and catching more fish during one fishing trip. But before you hire the first one you see, it's worth researching and knowing what to look for in a Miami fishing guide.
Read on as we share some of the things you should know about hiring a Miami fishing guide.
What to Look For in a Miami Fishing Guide
We don't only share what you should consider when finding a Miami fishing guide, but extra tips to avoid wasting your money. Without further ado, here are what to look for in a Miami fishing guide: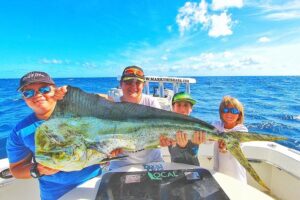 Ask trusted sources and read reviews
Before anything else, it's always worth asking your trusted sources, such as family and friends who love to go fishing. Besides that, you can always request recommendations on social media, where your friends and other people will be happy to share their experiences and suggestions.
Another place to ask for recommendations is a local fly shop in Miami. They can recommend reputable guides as they want to ensure you have an amazing fishing experience!
But just because you get recommendations from others doesn't mean you stop your research from there. Just like getting any other service, you'll want to read more reviews about a fishing guide. Don't stay within website testimonials but branch out and learn more about what others outside your circle are saying about your chosen guides. There are third-party websites like Yelp and TripAdvisor to help you out.
You'll want to find fishing guides who are said to be hardworking and friendly! Moreover, a fishing guide should be knowledgeable about the waters and know his stuff when it comes to fishing. It's best to find someone who's a local of Miami waters as they know where the hot spots are and will teach you unique techniques based on what you're trying to catch.
Besides that, make sure that your fishing guide is aware of the rules and restrictions set by the ODFW. Your guide should also hold the appropriate fishing license to avoid breaking any rules and facing hefty penalties.
Consider the time of year
Even if you go fishing without a guide, one of the major things to consider is the season you plan to go fishing in. If you will travel to Miami, it's always best to communicate with anglers from the area. You wouldn't want to head to Miami only to find out you can't catch your target species!
Once you have your list of fishing guides you're interested in hiring, talk with them about the best times of year to go fishing in Miami.
Match your preferences
Do you only do dry flies, prefer live bait, or want to catch a specific species, like wahoo? Look for guides specializing in the style of fishing you'd like to do or the species you want to target. Communicate nuances upfront for the guide to provide feedback.
A good Miami fishing guide will know when your preferences are not up to their forte. Even better, they will more likely refer you to someone within their network who specializes in what you're trying to accomplish in the waters.
Never trust anyone who claims that they can control or predict the day on the water. They should also never guarantee or promise that you can catch fish. Such pursuits are challenging and unpredictable.
Never assume anything and communicate everything, asking all the questions you have! An excellent Miami fishing guide will be happy to answer your queries and provide all the help you need before, during, and even after the trip.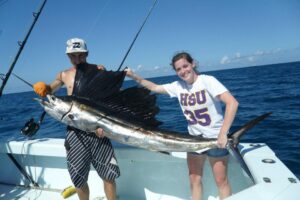 Align expectations
Besides talking to the guide about the fishing season in Miami, it's also important to align your expectations with him. Communicate with the guide about what you want to achieve during the fishing trip, may it be learning a new technique, catching certain species, and the like.
Fishing guides will try to do their best to help you accomplish your goals, but they may also manage your expectations based on various factors like the weather, tides, seasonal patterns, and the like. And that's okay, you want that from a fishing guide!
A good fishing guide will tell you the truth and what to expect, not overpromise anything. Moreover, your fishing guide should be easy to communicate with and let you know what to expect on the waters.
Cheaper isn't better
You might be tempted to hire the cheapest fishing guide you can find, but that's risky, especially if you plan on going offshore. Remember, offshore fishing trips are always on the pricier side as there are other expenses to consider, such as the boat, fuel, overhead, and time planning.
A well-established Miami fishing guide with repeat clientele would have higher rates because they spend time and effort studying the waters, how to fish, and maintain an excellent reputation. That makes them higher in demand, thus with slightly more expensive rates.
That doesn't mean you should overspend and get the most expensive guide, because price doesn't automatically mean quality. Make sure you still read reviews and ask for recommendations. Afterward, you'll be able to identify if the fishing guide's rates match the reputation and services offered.
Wrapping It Up
Hopefully, you learned a lot about what to look for in a Miami fishing guide. Now that you're more equipped with information, start researching to find the best guide for your needs.
If you're still searching, don't hesitate to contact us now here at Miami Fishing Charters!