What's a Miami Sportfishing Charter?
A Miami sportfishing charter offers many things an angler dreams of when heading to the Magic City for some action. If it's your first time booking a charter, you might be a bit confused with all the types of charters and what to expect on the day itself. Not to worry, as we share what you should know about a Miami sportfishing charter so you can focus more on enjoying your time out on the waters.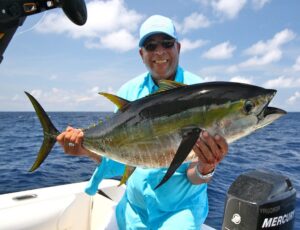 What is a Miami Sportfishing Charter?
Before anything else, let's start with the definition of sportfishing. This is fishing for sport and recreation, done with a rod, reel, and other appropriate fishing gear for higher chances of a big catch.
A sportfishing charter is an excursion service professional fishers and boat owners offer. It consists of a charter captain and crew bringing guests out onto varied bodies of water for a certain period of time to catch fish. These charters can offer trips for inshore, nearshore, or deep-sea fishing adventures.
People can either join a shared Miami sportfishing charter or book a private one, which we will discuss further below. The charters are rented at set rates based on the time period, the body of water, and the number of people joining. Depending on the charter trip you choose, you can have it customized to meet your and your group's needs.
A Miami sportfishing charter takes away the hassle of renting your own boat and navigating the waters yourself. The captain and crew have the knowledge, skills, and experience of the Miami waters and fish activity, so they know where to go and the techniques to use for more chances of catching one's target species. Besides knowing where to go and teaching you how to fish, the fishing gear and equipment are included in the package, further lessening the trouble of bringing or purchasing your own.
What to Expect in a Miami Sportfishing Charter
For those who haven't joined a Miami sportfishing charter before, you're in for a treat! But before you do so, you must communicate with the charter captain about your expectations. Moreover, you must ask questions and understand the policies of the trip.
Also, one thing you must expect is that the entire trip won't be spent fishing. The captain and crew will be navigating the waters to find the best fishing spots where there are chances of catching fish. You'll also need to drop a few lines in the water, waiting for the fish to bite. The captain may also head to other areas to maximize fishing opportunities.
When you get to hook a fish, don't worry about having to reel it in yourself. The captain and crew will be around to provide help with what you need, from teaching you the technique to catch fish down to lending strength to reel in the big one.
Finally, you can expect an amazing day out on the Miami waters, with the beauty and majesty of the ocean creating that sense of serenity. It's one of the best ways to spend your vacation, where you're far from the hustle and bustle of the city, enjoying the peace and quiet as you wait for fish to bite.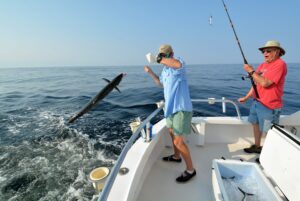 How to Choose a Miami Sportfishing Charter
When you're choosing the optimum Miami sportfishing charter package, you must consider factors like your goals, the fishing season, and how many you are in the group. Here are a few factors to consider:
Fishing Type: Would you like to go night fishing, reef fishing, stay inshore, or go offshore? The type of fishing you're after plays a significant role in your decision-making process as you choose a Miami sportfishing charter. Ask the charter captain about the fishing opportunities available and what you want to do. That way, he can customize the trip according to your desired experience.
Group size: Are you going solo or with a group? The size of your party is another factor to consider. If you are about six people, then you can opt for private fishing charters, though if you are more than that or going solo, then you may want to join shared fishing charters.
Trip length: There are trips depending on the length of time you want to be out on the waters. Half-day charters last for about four hours, while full-day trips are eight hours long. There are even overnight charters where you'll sleep on the boat, fishing all night.
Shared or private: Private fishing charters give you a more personalized experience with the charter captain and crew tending to you and your group's individual needs, though they come at a higher price. If you're on a tighter budget, you can still enjoy shared fishing charters where you will be on a bigger boat, though do note that you may not be able to get the full attention of the crew, and the fishing spots and species you'll catch will vary.
Sustainability and conservation: Your captain and crew must know what species are in season and which aren't, as well as those you can keep or must be released. They must also be aware of the size restrictions and protected waters to avoid any legal issues with the Coast Guard.
Cost: This is one of the more significant factors in selecting a Miami sportfishing charter. There isn't any upper limit on spending, just make sure you look into getting the best deal possible before booking and set a budget. However, remember that you get what you pay for, so if an offer sounds too good to be true, then do your due diligence, ensuring that your chosen Miami sportfishing charter is a reputable one.
Wrapping It Up
Hopefully, our article answered your questions about booking a Miami sportfishing charter. Now, it's time to book one for your upcoming Miami vacation so you can see what the waters have to offer for you and your group! Contact us now to avail any of our services.