What to Expect When Booking a Miami Fishing Charter
If you're reading this, then you just most likely booked yourself a Miami fishing charter for the first time. Or, you're still contemplating on it and want to know what to expect first. Whatever the case will be, one thing we can confirm is that fishing charters are a great way to wet a line.
That said, there are a lot of new things to learn and prepare for before your trip with a fishing charter. Read on as we share the things to expect and some quick tips before you head on to your Miami fishing charter.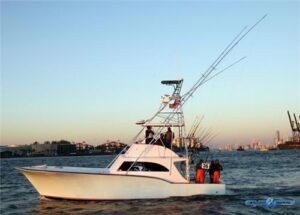 What to Expect When Booking a Miami Fishing Charter
One of the major factors to a fishing charter's success is by setting expectations and planning ahead. Fishing charters are incredibly diverse and no two trips are the exact same, with your first time out on the waters different from someone else's.
Here are the ways you can prepare for the Miami fishing charter before, during, and after your trip.
Before the Trip
Before your Miami fishing charter trip, it's best to set expectations by talking with your charter captain. That way, you're both on the same page and will get the fishing trip you were dreaming of. Here are basic things to talk about with the captain when booking your trip:
What kind of fish can we target?
Will we spend less time on the waters or be more focused on targeting game fish?
Can we keep the fish or simply practice catch and release?
That way, you're aware of what you can do during the fishing charter. It will also help you know what Miami fishing charter works best for you and if the captain is easy to communicate and work with.
If you have a certain fish species or techniques you'd like to practice during the fishing charter, it's important to communicate this with your captain. Also, if this will be your first fishing trip, let the captain know so the crew has an idea of your skill levels to teach you how to catch your first fish.
Also, it's important to note that all fishing charters will have onboard policies, with some being different than others. For instance, some captains may be fine with cigarette smoking on board but not everyone is this way. The same would go for food and alcohol. While some captains are fine with snacks and drinks, you may want to inquire about bringing alcohol and certain food to the boat.
It's also worth researching and asking what's included in the fishing charter and overall price before you book. If you want extra features and amenities, it's important to state it rather than leave it be until the last minute, as it may cost you. Most fishing charters will include gear, fishing licenses, and snacks in their price, while some may ask for extra charges on bait, fish cleaning, filleting, and fuel.
During the Trip
On the night before your trip, it's best to confirm the departure location and time. Remember, many things can change from the day you book to the day you're set to go fishing. Sometimes, marinas are under renovation, the weather is bad, or your guide had to move their base of operation.
Ask the charter captain about the departure location, if there's a landmark to make the area easier to find, and where the nearest parking is if you will bring a car. Arrive earlier than the call time to avoid being late for the trip, leaving from your place early rather than risk getting stuck in traffic jams. When you arrive early, you get a chance to talk with the captain and crew before the trip to talk about your expectations and what the trip will entail.
Meeting the crew before the fishing charter begins is a great way to build a respectful relationship. Have a friendly attitude and you can expect excellent service and an enjoyable trip. The crew has a ton of knowledge and will be willing to help you if it's your first time. Moreover, they will share with you where you're going, the fish you can expect to catch, and how to use your fishing gear effectively for higher chances of getting a bite.
Don't be hesitant to ask questions and to familiarize yourself with the boat. The captain and crew will talk about safety procedures and what to do in case of emergencies, so make sure to listen to them and follow their rules.
When You're Fishing
You'll spend between 2-12 hours on a fishing charter, depending on the trip you availed, and most of that time will be spent traveling to fishing spots. While you might think it's a lot of empty time wasted traveling, you can use it wisely by asking all the questions you've been meaning to ask and learning about fishing so you're ready once you arrive at the fishing spot. Pay attention to what the captain and crew tell you about the fishing gear and techniques to use.
Once you're ready to fish, be ready! Inshore fishing charters will be in calm and sheltered waters and have smaller fish. Deep-sea fishing will take you far from the shore to the point you can't see land. The waters may be rocky as well.
Sometimes, you can catch fish right away and get a bite. Other times, you may not catch fish yet after your first few tries. Never feel disheartened by that and use the time to learn the casting lines and ropes. Eventually, you'll get a bite and reel in fish.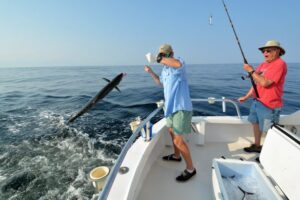 Wrapping It Up
Hopefully, you learned a lot about what to do and expect when joining a Miami fishing charter! If you're still looking for the perfect charter for you, then contact us now to avail of our services, we can connect you with reputable captains and guides to get your fishing journey started.